June 13, 2012
eBook creation
In the words of  prepress team member Dan Weiss: "EBooks are growing increasingly popular as more people get dedicated e-Readers like Amazon's Kindle, and Barnes & Noble's Nook; or multi-function devices like the iPad and iPhone, and Android devices.
"To create our first eBook, we started with the InDesign file supplied to us for the print version. Some re-formatting was needed to make sure the text flow was correct. Charts needed to be converted to graphics and anchored to the correct position in the text.
"Since an eBook will reflow based on the size of the device and size of the font the user has selected, traditional page numbers are irrelevant. What is on page 204 of the physical book might be page 348 on a Kindle with default display settings; or 516 if viewed on a larger font size. For that reason any references to specific page numbers need to be changed to the closest chapter or section location. The entire Table of Contents therefore needs to be recreated.
"Starting from InDesign we were able to create an industry standard ePub file. This file type works on most devices and can be freely distributed and shared. It is distributed by most of the major eBook stores including Apple's iBookstore and Barnes & Noble's Nook Store, who add copyright protection if desired. To support Amazon, we used conversion software to change our ePub file to Amazon's own proprietary format, Mobi. With an ePub file and a Mobi file, our client is ready to publish to all of the major online eBook stores!"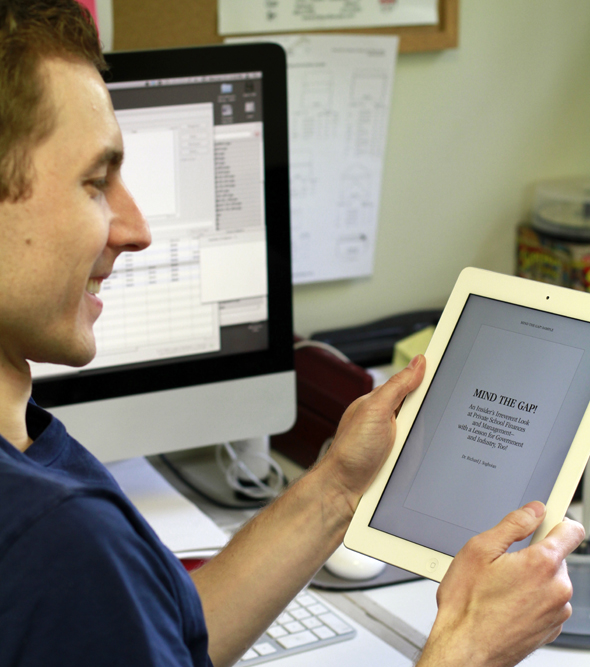 Photo by Dan Marshall.
Categories: Around the Shop , Shop News